ACJ's Happy Birthday, css Zen Garden
One year ago today, Mezzoblue author Dave Shea presented his baby to the world — the css Zen Garden was born.
Not of legal age to drink or drive by a long shot, it's influence has been irreplaceable already. It's been Exhibit CSS to prove those who claimed/believed CSS stands for Creativity Stop Sign wrong. Besides that, it's been a source of inspiration to those who practice webdesign themselves. Not in the last place does this apply to yours truly, hence my participation.
I have to admit I wasn't really aware of the upcomming of this event (and apparently I wasn't the only one), so I didn't have the time to head into town and find a nice present, so I leave you with a sneak preview of what I started working on a few months ago (note the emphasize on started).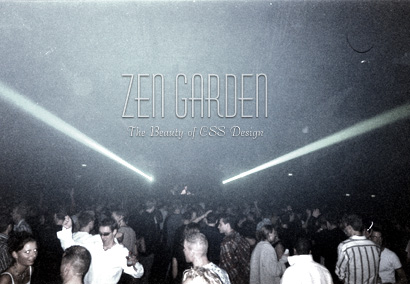 Thanks, Dave, for initiating this wonderfull project — which I truly believe has helped the web standards evangelism a great deal — and thanks, all those great webdesigners who have participated and made the Garden blossom as it has and will.
---
ACJ
4 comments so far.
Thanks!
Posted by: Dave S. on May 7, 2004, at 23:42
Thank you! :)
Posted by: ACJ on May 8, 2004, at 03:42
Oh snap! It's the Daaaaaaaavemeister!
Posted by: James on May 8, 2004, at 09:51
I'm very excited about the project as I just finished a design theme for csszengarden.com You can have a look at http://www.celebrityblog.net/zengarden/zengarden-sample.htm
Posted by: Jane Jolin on August 5, 2005, at 16:17
---