ACJ's Weblog: September 15, 2004
Entries
Weblog entries posted on this day.
Undo Default HTML Styles
The past few months I've been working on many, many style sheets, approaching them more and more modular. More often than not, I would start by making (or re-using) a module in which I reset/undo a lot of the styles many modern visual browsers apply to an (x)HTML document by default.
Inspired by recent discussion on this very matter by Tantek Çelik and Eric Meyer, I decided to dissect my latest undo.css right here.
Happy 80th Birthday, Grandma!
Today, my grandmother Frederika Johanna Hendrika Riek den Hertog turns eighty. I made her this series of post stamps that features my mother (her only daughter), my uncle (the middle one of her three sons), and me, since she likes post stamps and … well … us. I presented it to her printed and framed—she seemed very happy with it.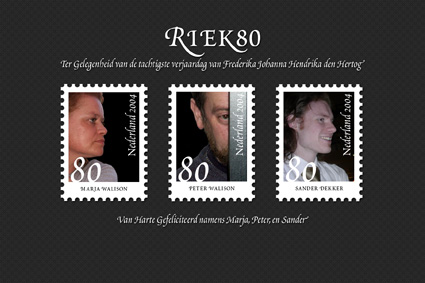 Shana Tova to the rest of you.
External
This day, elsewhere.
---